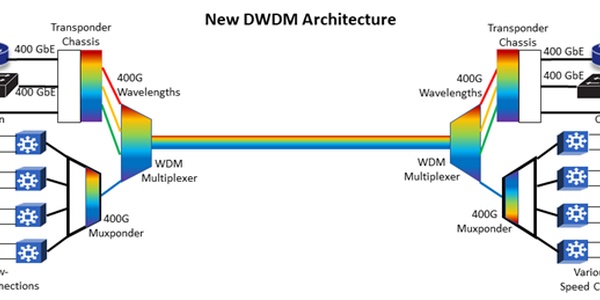 ---
This year is ushering in a change in the capacity of Dense Wavelength Division Multiplexing (DWDM) platforms going into the network. Service providers that deploy optical networking systems are now turning to new 400 Gb/s (400G) per wavelength solutions to increase transport capacity and optimize connecting ports on Packet-Optical Transport Systems (POTS), Layer-2 switching and routing equipment. This move to 400G is likely to fundamentally change the architecture of transport networks.
Up to now, POTS platforms have been at the heart of transport networks. The fundamental purpose of these platforms is to switch and aggregate various low-speed client connections onto a composite high-speed signal that modulates a DWDM wavelength, as depicted in the following figure.

POTS platforms are equipped with client port shelves that are scaled to accommodate a multitude of low-speed connections. These client port shelves generally occupy most of the faceplate space of POTS platforms.
Recently, though, the transport network is characterized by increasing capacity of each optical channel (the data stream on a single DWDM wavelength), higher speed switch and router ports and an enormous increase in the capacity and number of data center interconnections. These increasing connection speeds in the transport network are driving a significant upsurge of higher-capacity DWDM ports of the transport platforms but not an accompanying increase in the number of low-speed lines for which most of the space in POTS platforms is allocated. This demand calls for a new type of platform that abandons the role of low-speed connection aggregation and focuses, instead, on the transport of high-speed connections over the highest capacity optical channels available.
Network system vendors have responded to this need with a new type of transport platform commonly called a data center interconnection (DCI) platform, a 1RU (or sometimes 2RU) chassis composed of a combination of multiple transponders (each of which places a client 400G signal on a wavelength) and/or muxponders (each of which is a 4 x 100G multiplexer plus a transponder). The optical lines of this platform connect to a wavelength multiplexer. 
Because of the prodigious traffic density of these transponder/muxponder chassis, network operators will begin to connect the composite high-speed signals of POTS platforms to the client side of these DCI platforms rather than directly modulating wavelengths with them. This new configuration is depicted in the following figure.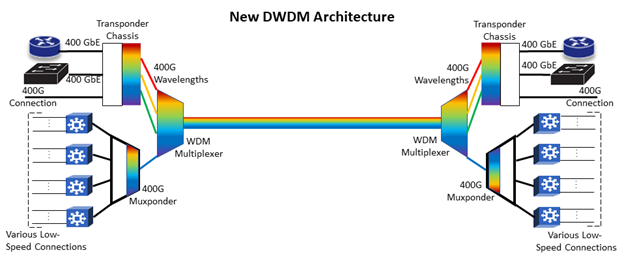 The new architecture relegates the current low-capacity POTS platforms (whose aggregate connection speed is only 100G) to aggregating nonpacketized traffic. Operators will connect the 100G line ports of these POTS platforms to the client ports of DCI muxponders which will, in turn, aggregate the traffic from the 100G connections into the 400G optical channels for transport.
As network operators disconnect POTS platforms from direct DWDM connections to free up wavelengths for the higher capacity DWDM systems, network systems vendors will need to:
·        Cost-optimize the composite high-speed ports of their POTS platforms since they will no longer need to be the expensive colored DWDM ports.
·        Take advantage of the lower power requirements of these gray high-speed ports (thus requiring less space) to reduce the footprint of these ports on the POTS platforms.
·        Upgrade their transport management systems:
o  POTS interconnections will now be more complex, requiring additional network elements (the DCI platforms); and
o  DCI platforms will not no longer be interconnecting only data centers.
Network operators need to view this transport evolution as a step toward operating their central offices as data centers. Not so long ago, they interconnected their equipment sites with a myriad of 10G optical channels, facing growing complexity as traffic increased. The new model significantly simplifies the transport network with a greatly reduced number of 400G optical channels.
Click for more information about Rick Talbot. 
Similar Blogs: