Analyzing the Economics of Multi-Cloud Deployments
Analyzing the Economics of Multi-Cloud Deployments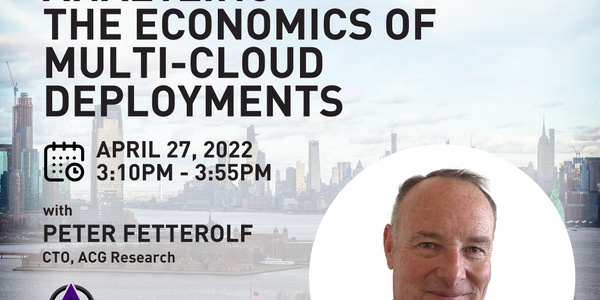 ---
Open Network Users Group (ONUG) and ACG Research will host a special briefing by ACG's Dr. Peter Fetterolf at ONUG's Spring 2022 conference on April 27. Peter's presentation, "Analyzing the Economics of Multi-Cloud Deployments," highlights the results of recent analyses of multi-cloud network and data center deployments in a variety of industry sectors and use cases. His talk also outlines considerations practitioners should keep in mind when considering how to obtain best economic results in line with their operations goals. Use cases in enterprise and service provider environments are explored. 
Register as ACG's guest to attend not only Peter's briefing but also to have access to the conference's full set of sessions, demos, and community conversations. Use code ACGGuest for your complimentary pass.
For virtual attendance, go to https://hopin.com/events/onug-spring-2022?code=v9y0w4KyaJBGYHrri5praPlKv.
For in person attendance, click ONUG Spring 2022 Conference.
Click to view the complete agenda for the ONUG Spring 22 conference.
Similar Blogs: