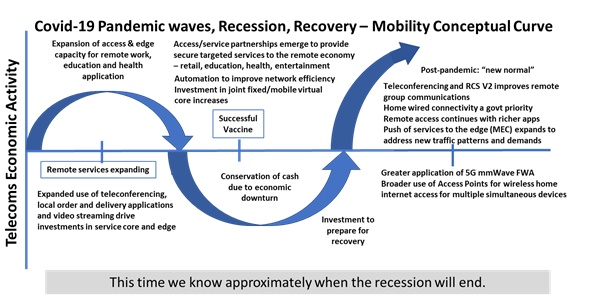 ---
The radical shift from onsite-based work, education and health services to home-based services to attempt to contain the COVID-19 virus brought dramatic and immediate impacts to the telecommunications networks and the OTT services that run on those networks. Both fixed and mobile networks are seeing significant increases in traffic, but even with the increased loads, the industry has thus far experienced few outright network or service outages.
However, strategies to deal with these events must become part of the industry's core. We are on a cycle of approximately every 8–10 years that a major coronavirus impacts the global population, and the severity of the infections is increasing:
Severe Acute Respiratory Syndrome (SARS) appeared in 2002–2004 with no known cases since 2004
Middle East Respiratory Syndrome (MERS) identified in 2012 and continues today on a minor scale
COVID-19 appeared in late 2019 causing international disruptions that are expected to continue at least through the end of 2020
Addressing the near-term demand is a surge in hot-spot purchases and smartphone hotspot usage that are up approximately 25% and 67%, respectively, according to network research. Mobile operators in the US are also waving some data fees and increasing data allowances for certain mobile plans, as well as implementing low-cost data plans targeting consumers that previously were not heavy mobile data users. These are all quick but temporary measures to address the immediate need.
We are already seeing operators looking to their architectures and business partnerships for opportunities to improve their existing network service delivery and experience and to prepare for the new normal once the COVID-19 inspired lockdowns and isolation requirements are lifted. The industry's immediate response is to closely monitor and manage traffic on the networks (for example, reduce the video bitrate from 4k to HD or lower resolutions) and expand the capacity of the access networks to accommodate the shift to home-based communications but longer-term impacts have to be addressed.
The most likely residual impact we will see from the imposed stay-at-home orders is a greater use of distributed services, including teleconferencing, home health care and home/remote assisted education. The need to support higher resolution video, for example, is critical in eHealth applications and highly beneficial in home-based education. What this means from a telecom perspective is an accelerated shift toward edge services (Multi-access Edge Computing), Content Delivery Networks to manage the heavy flow of video streaming, Rich Communication Services to ease communications across groups, teams, classroom participants, as well as greater application of teleconference optimization capabilities.

MEC deployments have been slowed by the lack of a strong business model, but the movement of services and applications closer to users to improve response times and reduce backbone traffic may be the push Edge Compute needs for broad deployments.
Access network capacity, particularly on the fixed but also on the mobile networks, will be strengthened with additional spectrum and traffic management tools implemented to more effectively deal with peak traffic loads. Automation and eventually Artificial Intelligence will help in these areas. A key unknown in the mobile space is the ability of the 5G ecosystem to ramp up fast enough to make a difference in the next year. AT&T, for example, is deploying 4G Cell on Wheels to augment capacity for first responders. The post-COVID strategy for 5G deployment may be to accelerate mmWave deployments to bring higher speeds and add capacity for edge-focused services and improve home internet access. 5G access points are available and production is ramping up, and the use of 5G Fixed Wireless Access to an access point utilizes 4G and/or Wi-Fi inside the home/office, which taps into the installed base of Wi-Fi and 4G devices.
Many of these technical and social changes will take time to permeate through society and some, including remote education and healthcare, will be unevenly implemented throughout our communities.
What is certain is that the necessary reaction to the spread and the danger imposed by COVID-19 has generated new social behaviors that will continue and has exposed new requirements on the telecom industry to more efficiently handle future events.
COVID-19, in particular, and pandemic planning, in general, represent a unique opportunity for the telecom industry to adjust current business practices, products and solutions to meet what will be the new normal and disrupt the status quo in many telecom and OTT services markets.
Click for more information about Chris Nicoll.
Similar Blogs: